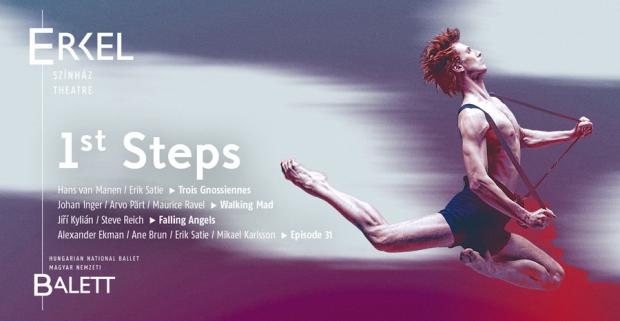 6 September 2019
Created to Maurice Ravel's Bolero and the music of Steve Reich, Erik Satie and others, the choreographies of the 1st Steps show address facets of life that affect us all in the irresistibly thrilling language of dance of Hans van Manen, Johan Inger, Jirˇí Kylián and Alexander Ekman. This September will see the premieres of previous years, Trois Gnossiennes, Falling Angels and Walking Mad, joined by the new production Episode 31, and it is with these masterpieces that the Hungarian National Ballet will be taking its own "first steps" in the 2019/2020 season.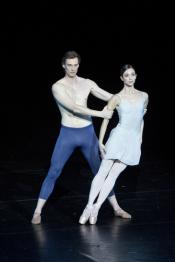 Trois Gnossiennes is the third and middle part of Hans van Manen's Piano Variations, created between 1980 and 1984. Manen crafted
a sensitive choreography to Erik Satie's magical and melancholy music, which is about resignation, trust and harmony. The work has a Hungarian connection too: the Dutch choreographer created the female role in the pas de deux for the world-famous ballerina Mária Aradi, now a ballet master with the Hungarian National Ballet.
Choreographer, set and costume designer  Hans van Manen Music  Erik Satie
Costume designer  Joop Stokvis Lighting designer  Jan Hofstra
Répétiteurs  Mária Aradi & Tamás Solymosi Rehearsals supervisor  Igone de Jongh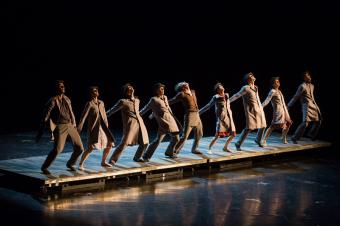 Johan Inger's Walking Mad was conceived for the stage with nine dancers moving to the music of Ravel's Bolero. The piece reflects the Socratic principle that "the greatest blessings find us in the face of madness". "The famous Bolero from Ravel with its sexual, almost
kitsch history was the trigger for me to make my own version. I quickly decided that it was going to be about relationships in different forms and circumstances. I came up with the idea of a wall that could transform the space during this minimalistic music and create small pockets of space and situations. Walking Mad is a journey in which we encounter our fears, our longings and the lightness of being," said the work's creator.
Choreographer, set and costume designer  Johan Inger Music  Maurice Ravel / Arvo Pärt
Lighting designer  Erik Berglund Répétiteur  Carl Inger
Coach and staging ballet master  Yvan Dubreuil Company répétiteur  Edit Rujsz
Falling Angels is a choreography presenting eight female dancers moving to the first movement of Steve Reich's 1971 percussion work,
Drumming. The ballet portrays the dancers' attempts to reach perfection, in which various attributes of the female psyche and female
existence also appear: pregnancy, birth and motherhood. During this creative period, Jiří Kylián was deeply influenced by surrealism and
minimalism, which can be particularly sensed in his choreography. The suggestive female figures build up to the edgy rhythmic music with great intensity through classical and contorted sequences of motions.
Choreographer, set and lighting designer  Jirˇí Kylián Music  Steve Reich
Costume designer  Joke Visser Light realisation  Joop Caboort
Technical adaptation  Joost Biegelaar Coach and staging ballet master  Roslyn Anderson
Company répétiteur  Edit Rujsz
"Episode 31 was originally created for the 2011 graduating class of The Juilliard School in New York City. The work is choreographed for a large group and consists of a number of fast-paced scenes created by the dancers. From an upbeat drumming sequence to a quiet
comment on beauty by Erik Satie, this piece is a showcase for the energy of these young, athletic dancers, feeding on their enthusiasm,"
explains Alexander Ekman about the creation of the work. After its premiere in New York, Ekman's choreography was shown at the Edinburgh Festival and has been added to the repertoires of the Finnish National Ballet and the Royal New Zealand Ballet, among others.
Starting from September 2019, it adds to the colour of the Hungarian National Ballet's pallet.
Choreographer, set and video designer  Alexander Ekman Music  Ane Brun / Erik Satie / Mikael Karlsson
Costume designer  Luke Simcock Lighting designer  Nicole Pearce
Répétiteur  Fernando Troya Company répétiteur  Marianna Venekei
Venue:
Erkel Theatre
Budapest
János Pál pápa tér 30
http://www.opera.hu/
Premiere: 6 September 2019
Further dates: 7, 8, 17 & 18 September 2019