On Monday, January 15, 2018
APAP Announces 2018 Award Winners:
Arthur Mitchell, Artistic Director, Choreographer, Educator, Co-Founder of Dance Theatre of Harlem;
globalFEST, World Music Service Organization and Festival;
Carlton Turner, Artist, Advocate, Executive Director of Alternate ROOTS to be honored at the
Annual Awards Ceremony at APAP|NYC
Surprise "Distinguished Service Award" Winner to be Announced at Luncheon
The Association of Performing Arts Professionals (APAP) will honor artists, visionaries and advocates in the performing arts at its annual gathering, APAP|NYC 2018, taking place at the New York Hilton Midtown. On Monday, January 15, 2018, APAP will host its Annual Awards Ceremony, a celebration of those individuals and organizations that have demonstrated a significant impact on the industry and communities they serve both in the US and abroad.
The awards program will open with a "creative moment" by Canada's celebrated poet, writer, actor and youth advocate, Ahmed "Knowmadic" Ali, in honor of Martin Luther King, Jr.
"This year's awards ceremony coincides with the Martin Luther King, Jr. holiday and in the 50th year since his assassination. Whether we are recognizing the many social and artistic achievements of Arthur Mitchell, who made a deliberate decision following Martin Luther King's assassination to start Dance Theatre of Harlem, or taking a moment as a community to recognize the words and works of Dr. King, there is no question the arts serve a meaningful purpose in every corner of our culture," said Mario Garcia Durham, president and CEO of APAP. "The 2018 recipients inspire and motivate our field to continue to grow and change, showing the strength and influence the arts can have in our communities, schools and cultural landscapes, and how important and influential the arts can be."
This year's APAP Award recipients include:
THE SIDNEY R. YATES AWARD FOR OUTSTANDING ADVOCACY ON BEHALF OF THE PERFORMING ARTS:
Carlton Turner, Executive Director, Alternate ROOTS
THE WILLIAM DAWSON AWARD FOR PROGRAMMATIC EXCELLENCE AND SUSTAINED ACHIEVEMENT IN PROGRAMMING:
globalFEST (Bill Bragin, Isabel Soffer, and Shanta Thake, Co-Directors)
THE AWARD OF MERIT FOR ACHIEVEMENT IN PERFORMING ARTS:
Arthur Mitchell, Artistic Director, Choreographer, Educator and Co-Founder, Dance Theatre of Harlem
The winner of APAP's FAN TAYLOR DISTINGUISHED SERVICE AWARD FOR EXEMPLARY SERVICE TO THE FIELD OF PROFESSIONAL PRESENTING will be announced at the luncheon.
This year's NAPAMA (North American Performing Arts Managers and Agents) award recipients will be presented by David Wannen, president, NAPAMA, and are:
NAPAMA PRESENTER OF THE YEAR:
Brett Batterson, President & CEO, Orpheum Theatre Group
NAPAMA LIZ SILVERSTEIN AWARD FOR AGENT-MANAGER OF THE YEAR:
Pamela M. Green, President & CEO, PMG Arts Management
BIOGRAPHIES
Carlton Turner – Yates Award
Carlton Turner is the Executive Director of Alternate ROOTS and works nationally as a performing artist, organizer, policy shaper, lecturer, consultant, and facilitator. He is also the founder of the newly formed Mississippi Center for Cultural Production, an organization working at the intersection of new media production and agriculture to support cultural, social, and economic development in his rural hometown of Utica, Mississippi. Carlton is also a co-founder, along with his brother Maurice Turner, of Men Under Guidance Acting Before Early Extinction, a Mississippi-based performance group.
Turner serves on the boards of First People's Fund, Imagining America, the Center for Media Justice, and Project South for the Elimination of Poverty and Genocide. He is also a member of the We Shall Overcome Fund Advisory Committee at the Highlander Center for Research and Education. He is a steering committee member of the Arts x Culture x Social Justice Network and a founding collaborating partner of the Intercultural Leadership Institute.
Turner was recently named a 2017-18 Ford Foundation Art of Change Fellow and a Cultural Policy Fellow at Arizona State University's Creative Placemaking Institute.
globalFEST (Bill Bragin, Isabel Soffer and Shanta Thake) – Dawson Award
globalFEST (gF) believes that music can be a driving force toward a society that values cultural diversity as a source of unity rather than division. By moving international music to the center of the performing arts field, gF fosters a robust and sustainable ecosystem for world music in the U.S. with programs that catalyze creative and artistic networks that break down cultural and social boundaries to support and share the world's music.
Founded in 2003, the heart of gF's work is the flagship festival featuring twelve artists from around the world on three stages in one night. The event creates an unprecedented networking opportunity and acts a springboard for touring, giving culturally diverse artists essential platforms from which to share their art and their messages. Through its multiple programs including a conference and touring fund, and tour, gF celebrates cultural diplomacy; deepens cultural understanding among its constituents; connects artists to communities, builds audiences for international music and creates new opportunities for artists leading to a more robust and sustainable ecosystem for world music in the U.S.
Arthur Mitchell – Award of Merit
Arthur Mitchell is a pivotal figure in the dance world and self-described "political activist through dance." He is internationally recognized as an acclaimed dancer, artistic director, choreographer, educator, and dance visionary. In 1955, he joined the New York City Ballet under the direction of Lincoln Kirstein and George Balanchine and would become the first African American principal dancer in a major American ballet company. Balanchine choreographed numerous roles especially for Mitchell including the pas de deux in Agon, and "Puck" in A Midsummer Night's Dream. Inspired by the changes sweeping America during the civil rights movement, Mitchell co-founded the Dance Theatre of Harlem (DTH) with his former teacher, Karel Shook, in 1969. During his tenure, DTH was described in The New York Times as "one of the dance world's more visionary experiments." In 2014, to further his belief that dance can be used as a vehicle for social change and to ensure his legacy, Mitchell founded the Arthur Mitchell Project (AMP) with the generous support of the Ford Foundation. Mitchell is the recipient of numerous awards and honors. He continues to advise professional dance companies and cultural institutions on the issue of diversity in the classical arts.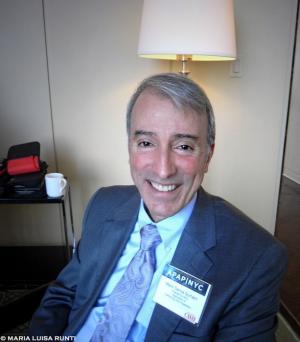 About APAP, the Association of Performing Arts Professionals
APAP, the Association of Performing Arts Professionals, based in Washington, D.C., is the national service, advocacy and membership organization dedicated to developing and supporting a robust, performing arts presenting field and the professionals who work within it. Our 1,600 national and international members represent leading performing arts centers, municipal and university performance facilities, nonprofit performing arts centers, culturally specific organizations, foreign governments, as well as artist agencies, managers, touring companies, and national consulting practices that serve the field, and a growing roster of self-presenting artists. As a leader in the field, APAP works to effect change through advocacy, professional development, resource sharing and civic engagement. APAP is a nonprofit 501(c)3 organization governed by a volunteer board of directors and led by President & CEO Mario Garcia Durham. In addition to presenting the annual APAP|NYC conference - the world's leading forum and marketplace for the performing arts (Jan. 12-16, 2018) - APAP continues to be the industry's leading resource, knowledge and networking destination for the advancement of performing arts presenting.

Contact:
Jenny Thomas
Director, Marketing and Communications
202-207-3857
jthomas@apap365.org
Leah Frelinghuysen
Media Relations Consultant
917-280-5170
leah@Monarchypr.com
https://www.apap365.org