APAP-NYC 2018, Jan. 12-16
JanArtsNYC 2018 Celebrates New Works and Convergence of 45,000 Performing Arts Professionals and Enthusiasts from around the Globe
Every January in New York City, more than 45,000 industry professionals and enthusiasts from around the globe gather to discover new works and experience the largest celebration of the performing arts industry. Together, with 11 major performing arts industry forums, public festivals, conferences and a full month of over 1,500 world-class showcases and newly presented full-length performances, concerts and public programs, keynote speakers, professional development and networking opportunities, JanArtsNYC has become the most anticipated global convening for the performing arts industry and the diverse audiences it serves.
Several partner events were originally incubated by APAP and then grew large enough to become self-sustaining festivals and events, including globalFEST (inaugurated in 2004), and Under The Radar Festival (2005). Wavelengths: APAP World Music Pre-Conference (2013) is part of APAP;NYC. Many of the partners developed festivals during the time of APAP;NYC to leverage the unique confluence of the largest gathering of performing arts professionals and destination for discovering new works across disciplines.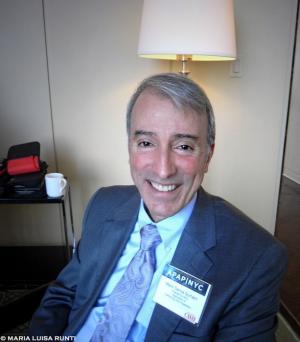 "The anticipation of discovering new works and celebrating the culmination of a year-long process for presenting the most dynamic forums, conferences, showcases and festivals our industry has to offer makes JanArtsNYC undoubtedly the most exciting place to be for both arts professionals and enthusiasts from around the world," said Mario Garcia Durham, president and CEO of the Association of Performing Arts Professionals (APAP).
Since 2016, the NYC Mayor's Office of Media and Entertainment has provided promotional support to JanArtsNYC.
"New York City is an incubator for some of the finest talent in the world, and we are thrilled to welcome APAP back to New York City for another year," said Mayor's Office of Media and Entertainment Commissioner Julie Menin. "APAP is the largest annual gathering in the world for the performing arts industry, and there's no better place for it to happen than our great city. With a wide range of events geared towards industry professionals and the general public alike, I encourage all New Yorkers to take advantage of the diverse performances, talks and professional development opportunities coming up in January."
JanArtsNYC events for 2018 include a wide array of free, open and public offerings in addition to industry events:
Chamber Music America (CMA), Jan. 4-7, chamber-music.org
The Public Theater's Under the Radar Festival (UTR), Jan. 4-15, undertheradarfestival.com
PROTOTYPE: Opera/Theatre/Now, Jan. 7-20, prototypefestival.org
ISPA Congress, Jan. 9-11, ispa.org
The Joyce Theater's American Dance Platform, Jan. 9-14, joyce.org
American Realness, Jan. 9-16, americanrealness.com
Performance Space 122's Coil Festival, Jan. 10-Feb.4, ps122.org
NYC Winter Jazzfest, Jan. 10-17, winterjazzfest.com
Wavelengths: APAP World Music Preconference, Jan. 11-12, APAPNYC.org
APAP;NYC 2018, Jan. 12-16, APAPNYC.org
globalFEST, Jan. 14, globalfest.org
Programming highlights for each partner can be found below:
Kicking off the annual Chamber Music America (CMA) gathering will be Robert Krulwich, co-host of WNYC's Radiolab. The New Music for CMA Concert will feature the Argus Quartet and composer Michele Rosewoman. World-renowned clarinetist David Shifrin will receive the 2018 Richard J. Bogomolny Award, and Jon Batiste, bandleader of the "Late Show with Stephen Colbert" will receive the CMA 2018 Visionary Award.
Experience 26 shows across 5 venues over 12 days with the premier launching pad for new and cutting-edge performance from the U.S. and abroad at the Under the Radar Festival. Tickets for partner venue events at the Japan Society, LaMaMa, and NYU Skirball can be purchased directly from the venues. Featured artists and speakers include Adam Gopnik, Nona Hendryx, Modesto Flako Jimenez, Nature Theater of Oklahoma, Satoshi Miyagi, Split Britches and many others.
With the addition of a new Co-Director, Jecca Barry, Executive Director of Beth Morrison Projects, PROTOTYPE is excited to offer a larger slate of shows this year. Out of Bounds, pop-up performances around the city, will feature Alicia Hall Moran and Norwegian artist Tori Wranes, Renée Fleming and Kurt Elling will host and perform at the PROTOTYPE Soirée on January 7.
Colleagues from around the world will attend the ISPA Congress as it explores Balancing Acts: Art, Community, and Leadership around the transition of next generation of arts leaders and arts' role in our communities.
Caleb Teicher & Company and BODYTRAFFIC, PHILADANCO! and Hālau O Kekuhi, Jessica Lang Dance and Backhaudance, Ensemble Español Spanish Theater and Trinity Irish Dance Company will make up the eclectic roster of eight companies appearing on four different programs during The Joyce Theater's American Dance Platform's week of showcases.
American Realness activates Abrons Arts Center, Gibney Dance, Danspace Project, SculptureCenter, The Invisible Dog Arts Center, Participant Inc. and Knockdown Center with seventeen evening-length performance works in 89 performances between January 9-16, 2018. Featuring artists including Ishmael Houston-Jones, Miguel Gutuerrez, keyon gaskin, Simone Aughterlony & Jen Rosenblit, jumatatu m. poe & Donte Beachem, Nora Chipaumire and Jaamil Olawale Kosoko, the festival centers experimental and subversive artists wrestling through urgent socio-political concerns with rigorous criticality at the forefront of choreographic and performance practices.
Performance Space 122's 13th Annual Coil Festival features radically experimental works by Heather Kravas, David Thomson, Dean Moss, Dane Terry, Angela Goh, and Atlanta Eke. All performances will take place in the newly renovated theaters at 150 1st Avenue in the East Village.
NYC Winter Jazzfest presents hundreds of acts across multiple stages as it continues to explore themes related to social justice, with a focus on racism, women's and gender rights, immigration, mass incarceration and environmental responsibility. The festival will launch a new jazz and justice educational series called We Resist! Artists and hosts include the iconic DJ Gilles Peterson, Nubya Garcia, Yazz Ahmed, Angela Davis, Esperanza Spalding, Dianne Reeves, Vijay Iyer, indie rockers Deerhoof and many others.
Organized by music PR firm Rock Paper Scissors and globalFEST, Inc., the Wavelengths: APAP Global Music Pre-conference is the largest gathering of world music professionals in the U.S. Lively discussions on the latest issues facing the field with artists, managers, presenters, and media working in the arts make up this all-day peer-driven event.
APAP&;NYC 2018 leads the largest gathering of arts professionals in the world with a dynamic slate of artists and speakers, including Bassem Youssef (political satirist and comedian), Oskar Eustis (artistic director of The Public Theater), Kyle Abraham (choreographer and dancer), Jason Moran (jazz pianist, composer, educator), Ahmed "Knowmadic" Ali (poet), Kaumakaiwa Kanaka'ole (hula vocalist) and others. This year's theme "trans.ACT" is designed to deeply examine the transformative power of the arts while engaging professionals throughout the conference on how they are changing the world around them. A notable new event at APAP;NYC 2018 includes a town-hall format to discuss the "Artist as Activist."
The APAP;NYC 2018 pre-conference, which takes place January 11-12, has many events that are free and open to the public. Sessions include peer-led discussions focusing on circus arts, transgender arts professionals, start-up skills and several other industry-intensive forums related to community relationships, curation, and best practices in the field.
In its 15th year, globalFEST features a dozen global music artists in one night in new venues as the festival takes over Times Square. The festival can be experienced in a former Broadway theater called the Liberty Theater and on two stages at the historic B.B. Kings Blues Club, and Lucille's Bar and Grill. Designed to showcase striking, unexpected and groundbreaking sounds from tour-ready artists from across the globe, this year's festival lineup features music from Georgia to Guadeloupe, including artists Ava Rocha (Brazil), Delgres (Guadeloupe), Eva Salina & Peter Stan (USA/Serbia/Romania), Grand Tapestry (USA/India), Iberi Choir (Georgia), Jarlath Henderson Band (Ireland), Jupiter & Okwess (D.R. Congo), La Dame Blanche (Cuba), Mariachi de Flor Toloache (Mexico/USA), Miramar (Puerto Rico,USA), Mohsen Namjoo (USA/Iran) and Thornetta Davis (USA).
About JanArtsNYC
Every January in New York City, more than 45,000 performing arts leaders, artists, and enthusiasts from across the globe converge for JanArtsNYC (formerly, "January In NYC"). A partnership among eleven independent multidisciplinary festivals, indispensable industry convenings and international marketplaces, JanArtsNYC is one of the largest and most influential gatherings of its kind. Featuring more than 1,500 world-class showcases, concerts, and public performances, JanArtsNYC is the world's most comprehensive platform for celebrating and experiencing the newest work by artists in theater, dance, opera, music, and performance.
It is the destination for some of the world's most influential performing arts conferences, providing essential opportunities for networking, learning, professional development, mentorship, cultural exchange, industry awards, and peer acknowledgement.
JanArtsNYC hosts vibrant marketplaces where colleagues meet annually to transact deals, solidify partnerships and make face to face connections that drive their businesses forward.

Contact:
Jenny Thomas
Director, Marketing and Communications
202-207-3857
jthomas@apap365.org
Leah Frelinghuysen
Media Relations Consultant
917-280-5170
leah@Monarchypr.com
https://www.apap365.org