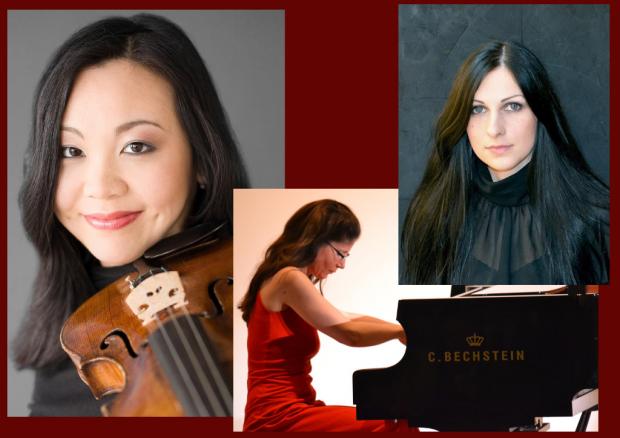 WEDNESDAY, SEPTEMBER 20th 2017 at 20:00h
Members of Les AMIS and the CANADIAN SINFONIETTA conductor and music director, Maestro Tak-Ng Lai, are delighted and proud to celebrate the sesquicentennial, Canada's 150th, by bringing music by Canadian composers to an international audience.
Invites You to the concert of
Joyce Lai, Violin
Erika Crinó, Piano
Jovana Ćurović, Soprano
On program Canadian composers:
Calixa Lavallée, Healey Willan, Claude Champagne, Michael Pepa, Charles Cozens.
Violinist Joyce Lai enjoys a career as a soloist and chamber musician. She has been a guest artist with numerous orchestras around the world, including the Toronto Symphony Orchestra, the Szeged Symphony Orchestra of Hungary, and the City Chamber Orchestra of Hong Kong.
Joyce also performs regularly in chamber festivals such as the Clear Lake Chamber Music Festival in Manitoba, the Kitchener-Waterloo Chamber Music Festival, and the Pender Harbour Chamber Music Festival in B.C. Joyce is first violinist in the Riverdale Ensemble, a chamber group that specializes in performing rare and unique works, as well as premiering new Canadian compositions. Joyce is also an enthusiastic educator and has a private studio of students ranging from ages 3 to 73. Joyce holds a Bachelor of Music Degree from the Manhattan School of Music and a Masters of Music Degree and Performer Diploma in violin performance from the Indiana University.
Italian pianist Erika Crinò is very active as a chamber musician and a soloist in Europe as well as North America.
Miss Crinó is regularly heard in several venues in Toronto, among which are Heliconian Hall, York University, Gallery 345. At CBC's Glenn Gould Studio, she performed Bach's Triple Concerto with pianists Dr. Robert Silverman and Dr. Brett Kingsbury with the Koffler Chamber Orchestra directed by Jacques Israelievitch. In the same concert hall, Erika premiered TREMA by Canadian composer Michael Pepa, with the Canadian Sinfonietta conducted by Volodymyr Syvokhip, and his Yakami Variations, with the Croatian Cantus Ensemble conducted by Ivan Josip Skender.
Erika has appeared in solo recitals at prestigious venues such as La Chapelle du Bon Pasteur in Montreal, the George Enescu Hall in Bucharest (Romania), the Lviv State Academy (Ukraine), Art Centre Guarnerius in Belgrade (Serbia), FUGA Budapest (Hungary), Centrum Muzyki `Gaia`in Krakow and at the International Chamber Music Festival `On the Hights` in Zakopane (Poland), Sala Tripcovich in Trieste, Istituto Mario Negri in Milano, and Palazzo Sacchetti and Teatro Marcello in Rome (Italy). In 2015, she collaborated with the Penderecki String Quartet in several performances in Canada (Kitchener-Waterloo Chamber Society) and Croatia (Music Biennale Zagreb, International Festival of Contemporary Music). Her recent performance in Zagreb, at the invitation of the Canadian Embassy, to celebrate the Twentieth Anniversary of Diplomatic Relations between Canada and Croatia, was attended by the Croatian President Ivo Josipović.
Miss Crinó also appeared as guest soloist in Europe in several performances of Bach's D Minor Concerto and Michael Pepa's TREMA with the Lviv Virtuosi (Lviv, Ukraine) conducted by Irina Vakulina and in Bulgaria with the Orpheus Chamber Orchestra of Bulgaria conducted by Raitcho Hristov. With the National Chamber Orchestra of Moldavia, Erika performed Michael Pepa's Yakami Variations at THE DAYS OF NEW MUSIC International Festival, Edition XXV in Chisinau, Moldova, in 2016.
After obtaining the Diploma in Piano at the conservatory in her hometown of Trieste (Italy), and the Diploma in Chamber Music with the Trio di Trieste, Erika studied with Maestro Bruno Canino in Milan. Shortly after, she moved to Canada where she completed her Doctorate in Piano Performance with Dr. Robert Silverman at the University of British Columbia. Erika is currently on the faculty at the Kingsway Conservatory of Music in Toronto and is often invited as guest lecturer at the University of Toronto.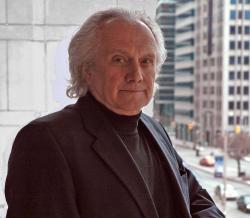 Composer Michael Pepa has composed some 80 works for solo instruments, chamber groups, and orchestras. Most have been commissioned and broadcast in Canada as well as in the U.S., Netherlands, France, Italy, Austria, Serbia, Croatia, Hungary, Ukraine, Bulgaria, Romania, Moldova, and Japan. His music has been performed by international groups such as the Filarmonica Banatul Timisoara, Romania; National Philharmonic of Moldova; Lviv (Ukraine) Philharmonic Society; Academic Chamber Orchestra "Lviv Virtuosos"; Orpheus Chamber Orchestra of Bulgaria; Hungarian Philharmonic Chamber Ensemble, Budapest; Utrecht's Conservatorium Orchestra, Netherlands; CANTUS ENSEMBLE of Zagreb; SOUNDSTAGE CANADA at the Zagreb Biennale ('81) of Contemporary Music.
Pepa's music has been performed many times in Toronto, Montreal, Ottawa, Winnipeg, Brandon, New York, Los Angeles, Chicago, Philadelphia, Paris, Utrecht, Vienna, Zagreb, Belgrade, Budapest, Chisinau, Sofia, Pernik, Lviv, Kyiv, Bucharest, Timisoara, and elsewhere.
Notable international artists such as Claire Bernard, Gabriel Popa, Alexandra Gutu, Jovan Kolundzija, Nada Kolundzija, and Canadian artists Scott St. John, Martin Beaver, Barry Shiffman, Lynn Kuo, Erika Crinó, and Rivka Golani have included Pepa's works on their programmes. St. Lawrence Quartet commissioned two of Pepa's four quartets and in 1996 premiered Quartet No. 4 in Paris, France.
Recent notable performances:
in September 2014, Filarmonica Nationalā "Serghei Lunchevici" of Moldova presented a concert of music by Romanian composers. Romanian conductor Radu Popa and Romanian violinist Gabriel Popa were guest artists. Pepa's Violin Concerto was included on the programme.
The success of that performance initiated the invitation for the performance of Yakami on June 9, 2016, at THE DAYS OF NEW MUSIC, International festival, Edition XXV, CHISINAU, JUNE 4 – 12, 2016.
At Music Biennale Zagreb, Festival of Contemporary Music, MBZ'15, the Penderecki Quartet performed Pepa's String Quartet No. 1.
In the same year, President Ivo Josipović awarded Mr. Pepa with a national award, REDOM DANICE HRVATSKE S LIKOM MARKA MARULIĆA. This is a cultural award in recognition of Pepa's contribution to the promotion of Croatian music in Canada and presenting music by Canadian composers in Croatia.

ART CENTRE GUARNERIUS FOUNDED BY
MAESTRO KOLUNDŽIJA
Džordža Vašingtona 12,
Belgrade, Serbia
www.guarnerius.rs