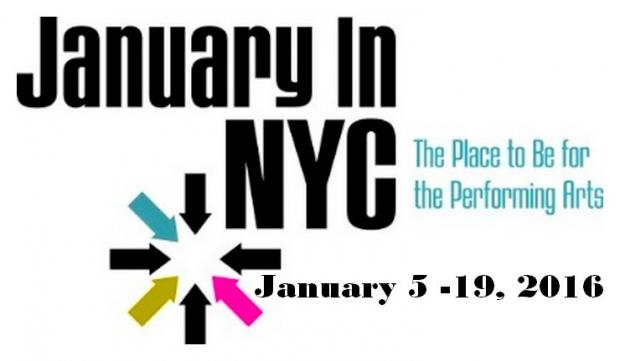 January 5 -19, 2016
January is when visitors to New York are thrilled by the global convergence of 12 major live performing arts festivals, forums and conferences - and more than 1500 performance showcases presenting new and exciting artists and leading ideas in dance, music, theater, opera and other live art forms. Please see below for dates, and participating events and organizations. Looking for insight and participation in what's next to appear in New York and communities around the world.

Mario Garcia Durham, APAP President
January In NYC, the annual convergence of 12 major performing arts industry forums and public festivals in New York City in January, announces its 2016 events. For details visit JanuaryInNYC.org.
WHEN: January 5 -19, 2016 (Specific events with dates detailed below.)
WHAT: More than 45,000 people will converge at performing arts festivals and industry gatherings as a dozen leading U.S. and global performing arts organizations present a concurrence of events. Leading arts organizations will offer expansive professional development and networking opportunities to the performing arts community, and bring the best of theater, dance, opera and music showcases together for the advancement of performing arts professionals and the enjoyment of enthusiasts. Events include conferences, workshops, networking, keynote speakers at the top of their field, as well as festivals, concerts and programs open to the public. More than 1,500 showcases and fully produced performance works featuring world-class performing artists offer a sampling of what's new and on trend for industry professionals to select from and book in their communities in the coming year and beyond.
WHERE: Performance venues and meeting rooms in more than 350 locations throughout Manhattan and extending into Brooklyn will host presentations, workshops, performances and showcases.
WHY: January In NYC grew organically as live arts festivals and professional events were scheduled around the annual Association of Performing Arts Presenters conference (APAP|NYC), building on the concentration of artists and presenters already traveling to New York. In January 2014, nine such organizations formed a deliberate collaboration to more effectively and efficiently serve the performing arts community. A dozen groups now comprise the consortium.
WHO: In date order, forums and festivals of January In NYC include the following. Locations not included below will be listed on each individual website:
COIL 2016, Jan. 5-18, ps122.org/coil. COIL is Performance Space 122's annual performance festival demonstrating the constant vitality of live performance in New York City, featuring work created locally, from across the U.S. and around the world. What was originally established as a contemporary dance festival of remounts from past seasons, COIL has evolved into a festival that highlights the work and artists PS122 commissions that spans genres. This year's COIL highlights envelope-pushing dance, theater, music, performance, media and virtual art.
PROTOTYPE: Opera/Theatre/Now, Jan. 6-17, prototypefestival.org. PROTOTYPE is a "suddenly indispensable" (The New Yorker) annual festival of visionary opera-theatre and music-theatre works by pioneering artists from New York City and around the world, co-produced by Beth Morrison Projects and HERE. The fourth season showcases the full range of operatic expression across seven featured presentations, from chamber opera to music-theatre to multimedia productions to staged song cycles to genre-blending cabaret: evidence of why Opera News declared Prototype "a major leader in opera theatre for the twenty-first century."
The Public Theater's Under the Radar Festival (UTR), Jan. 6-17, undertheradarfestival.com. UTR is a festival of new theater widely recognized as a premier launching pad for new and cutting-edge performance from the U.S. and abroad. UTR offers a crash course in theater created by some of the most dynamic artists working today, and provides a snapshot of contemporary theater: richly distinct in terms of perspectives, aesthetics, and social practice, and pointing to the future of the art form. This year's festival features 18 productions from five countries. The festival also features a symposium for industry professionals (Jan. 14 and 15).
Chamber Music America (CMA), Jan. 7-10, chamber-music.org. CMA is the national network for the chamber music profession, which includes ensembles, presenters, composers, educators, music businesses and others involved in early, classical, contemporary, jazz and world chamber music. CMA's national conference includes inspiring keynotes, small group sessions and workshops, ensemble showcases, concerts and networking events. Honored this year will be Kenneth Fischer, President of the University Musical Society at the University of Michigan, for his outstanding service and commitment to the chamber music field.
American Realness, Jan. 7-17, americanrealness.com. Created by Thomas Benjamin Snapp Pryor in partnership with the Abrons Arts Center in January 2010, American Realness is a festival of contemporary dance and performance. An internationally recognized platform for the discovery of new works from subversive artists, tearing at the boundaries of their forms, American Realness commands attention for the proliferation of choreographic and performative practices transcending the traditions and rewriting the definitions of American dance and performance. Since 2014, the eleven-day festival has expanded its scope to include the work of international artists, engaging a global dialogue around the practice and presentation of contemporary dance and performance.
New York 2016 ISPA Congress, Performance!, Jan. 12-14, ispa.org. 
The International Society for the Performing Arts' (ISPA) 68th New York Congress will welcome an inclusive network of more than 500 leaders representing 185 cities around the world. The 2016 Congress theme addresses Performance! The creation, curation and presentation of art and artists are at the heart of all we do. Across the globe, approaches differ vastly, and within single regions new influences drive inspiring new practices. Every day colleagues are discovering uncharted creative territory. What role do innovation, funding, training and technology play in our work? Are there fundamentals that exist across those approaches and practices? What impact do they have? Join us as we explore the art of our business.
American Dance Platform, Jan. 12-17, Joyce.org. The Joyce Theater is proud to launch its first American Dance Platform, showcasing some of the most captivating American companies performing today. This year's festival features companies representing different regions throughout America and pairs emerging companies with those that are more established. On the roster —Donald Byrd's Spectrum Dance Theater, Hubbard Street Dance Chicago, Northwest Dance Project, Alonzo King LINES Ballet, Reggie Wilson/Fist and Heel Performance Group, Martha Graham Dance Company, TU Dance, and Ate9 Dance Company. The festival is curated by Paul King and Walter Jaffe, the founders and directors of White Bird, the acclaimed dance presentation series based in Portland, Oregon. The Joyce Theater's American Dance Platform is sponsored by The Harkness Foundation for Dance.
APAP World Music Preconference, Jan. 14-15, APAPNYC.org. Organized by music PR firm Rock Paper Scissors and globalFEST, Inc., the APAP World Music Pre-conference is the largest gathering of world music professionals in the U.S. The two-day World Music pre-conference at APAP|NYC will include lively discussions and workshops on the latest issues and concerns in the world music field.
Jazz Connect Conference, Jan. 14-15, jazz-connect.com. In its fourth year, the Jazz Connect Conference has become one of the leading gatherings for jazz professionals around the world. Under the theme of "Fresh Horizons", the conference will be held at Saint Peter's Church in New York City. In-depth programming includes over a dozen workshops and five plenary sessions on a variety of timely and engaging subjects. Moderators and panelists include an impressive cross-section of worldwide artists and professionals.
Winter Jazzfest, Jan. 13-17, winterjazzfest.com. Since launching as a one-day festival in 2005, Winter Jazzfest has expanded to multiple days and numerous venues, showcasing hundreds of artists and attracting thousands of attendees each year. Set against the historic backdrop of the Village the festival helps to redeem the rich jazz heritage of the downtown neighborhood while providing an intimate and energized environment for audiences to experience today's incredibly diverse and thriving jazz and creative music community. In 2016, Winter Jazzfest celebrates 12 years of showcasing prominent and new jazz talent to a growing audience.
APAP|NYC 2016, Jan. 15-19, APAPNYC.org. The Association of Performing Arts Presenters (APAP) presents the world's premier gathering of more than 3600 performing arts professionals at its 59th annual members conference, APAP|NYC 2016, in New York City at the New York Hilton Midtown and Sheraton New York Times Square. APAP|NYC features more than 1000 world-class artist showcases held around the city, an EXPO Hall boasting nearly 400 booths, dozens of professional development sessions, A-list keynote speakers, and pre-conference forums, many of which are free and open to the public. See more conference information at APAPNYC.org, and APAP membership information at apap365.org.
globalFEST, Jan. 17, globalfest.org. In its 13th year, globalFEST will once again feature a dozen global music artists at NYC's iconic Webster Hall. Designed to showcase striking, unexpected, and groundbreaking sounds from tour-ready artists from across the global scene, globalFEST's January festival is one of several initiatives—from the globalFEST (gF) Touring Fund and a gF-branded North American tour, to yearly stages at high-profile events like Bonnaroo and SXSW—the fast-growing organization undertakes to support its mission of bringing more global music to more venues and audiences around the U.S. and Canada.
APAP
www.APAPNYC.org
http://www.apapnyc.apap365.org/Pages/default.aspx
Media Contact: Carol Miller
cmiller@artspresenters.org
carolmiller100@gmail.com